Shaykh Tosun Bayrak was born in 1926, in Istanbul, Turkey. He studied Biological Sciences, BSC, Robert College, Istanbul; Architecture at the University of California, Berkeley; and History of Art at the Courtauld Institute of Art, London.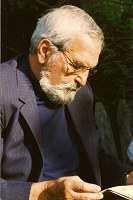 He received a Masters in Fine Arts from Rutgers University. Shaykh Bayrak served as a government official in Ankara, Turkey, and was the Honorary Consul of Turkey in Morocco, as well as an international businessman. He exhibited widely in the USA as an artist. He retired as a Professor of Art and Art History from Fairleigh Dickinson University, New Jersey.
He devoted the last forty years of his life to Sufism, and was the Shaykh of the Jerrahi-Halveti Order in the Americas.
In addition to producing two volumes of poetry in Turkish, and having many articles published about art and religion in both the USA and Turkey, Shaykh Bayrak authored the following books:
The Way of Sufi Chivalry, Inner Traditions International
The Most Beautiful Names, Threshold Books
Inspirations on the Path of Blame, Threshold Books
Secret of Secrets, Islamic Text Society, London, UK
Divine Governance of the Human Kingdom, Fons Vitae
The Name and the Named, Fons Vitae
The Shape of Light, Fons Vitae
The Tree of Being, by Ibn Arabi
The Way of Muhammad, by Imam Birgivi
Memoirs of A Moth
Bil!, Bul!, Ol!
Gonul Ceragini Uyandirmak
Shaykh Bayrak resided in Chestnut Ridge, NY and Istanbul, Turkey, until his death on February 15, 2018.